ABOUT THE BOOK:
Northern California, during the violent end of the 1960s. At the start of summer, a lonely and thoughtful teenager, Evie Boyd, sees a group of girls in the park, and is immediately caught by their freedom, their careless dress, their dangerous aura of abandon. Soon, Evie is in thrall to Suzanne, a mesmerizing older girl, and is drawn into the circle of a soon-to-be infamous cult and the man who is its charismatic leader. Hidden in the hills, their sprawling ranch is eerie and run down, but to Evie, it is exotic, thrilling, charged—a place where she feels desperate to be accepted. As she spends more time away from her mother and the rhythms of her daily life, and as her obsession with Suzanne intensifies, Evie does not realize she is coming closer and closer to unthinkable violence, and to that moment in a girl's life when everything can go horribly wrong.
LISTEN TO AN EXCERPT:
MY REVIEW: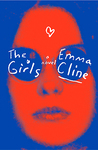 The Girls
by
Emma Cline
My rating:
4 of 5 stars
The Girls by Emma Cline is a 2016 Random House publication.
Disturbingly realistic, weird, thought provoking and engrossing-
Loosely based on the Manson cult in the late sixties, this novel explores the allure of the hippie commune atmosphere for fourteen- year old Evie, who is adrift and marginalized by her divorced parents, and suffering from loneliness and boredom.
Evie meets Suzanne while out roaming around and continues to run into her until she is finally invited to visit 'The Ranch' and meet the charismatic 'Russell'. Finding herself more immersed in this life and less a tuned to her own home life, she spends more and more time at the ranch, eagerly participating in anything her role model, mentor, and secret crush, Suzanne might be into. But, as the climate on the ranch begins to shift, turning dark and tense, Evie will find herself right on the cusp of a life altering moment- one that will forever haunt her throughout her adult years.
When this book was published back in 2016, I waffled on it, not sure if was a good fit for me or not. The reviews were mostly positive, however, so I put it in my 'wish list'. I am always overwhelmed by the books I am assigned, or must be read within a certain time frame, and with those who are always competing for my attention- the private reads and library books- so it wasn't long before this book fell completely off my radar- out of sight- out of mind.
However, while cleaning up my Overdrive wish-list a few weeks back, I once more found myself wondering if I should keep it on the list, check it out, or delete it. Obviously, curiosity finally got the better of me and I decided to borrow it and read a few chapters to see how it went. I ended up reading it in nearly one sitting.
The author did an admirable job with time and place, sending the reader back to the tumultuous year of 1969. The story is a familiar one, we know the players, even though their names are changed, but the atmosphere is no less fraught with a sense of impending terror, made worse by knowing exactly what is coming.
Evie's story, while fictional, is still, even now, a cautionary tale. Her near obsession with Suzanne, her parent's self-absorption and preoccupations, and her teenage angst, make her the perfect target, and she easily falls under the spell of Russell and Suzanne, and their strange, squalid lifestyle, quite willingly.
As an adult Evie looks back on that period in her life with a plethora of emotions, some of which were puzzling and truly shocking, and left me feeling more than a little unsettled.
Overall, this is a well-written, dark, and nearly mesmerizing novel of suspense. I am glad I decided to take the plunge instead of discarding this one!
4 stars
View all my reviews
GET YOUR COPY HERE:
https://www.amazon.com/Girls-Novel-Emma-Cline-ebook/dp/B015LYZH20/
https://www.amazon.com/The-Girls-A-Novel/dp/B01D23766W/
https://www.barnesandnoble.com/w/the-girls-emma-cline/1122678902
ABOUT THE AUTHOR:
Emma Cline is from California. Her fiction has appeared in The New Yorker, Tin House, Granta, and The Paris Review, and she was the winner of the 2014 Plimpton Prize from The Paris Review. Her novel The Girls was a finalist for the First Novel Prize, a National Book Critics Circle Award, and the LA Times Book Prize, and was the winner of the Shirley Jackson Award. In 2017, Granta named her one of the Best Young American Novelists.