ABOUT THE BOOK:
A carnival rolls in sometime after the midnight hour on a chill Midwestern October eve, ushering in Halloween a week before its time. A calliope's shrill siren song beckons to all with a seductive promise of dreams and youth regained. In this season of dying, Cooger & Dark's Pandemonium Shadow Show has come to Green Town, Illinois, to destroy every life touched by its strange and sinister mystery. And two inquisitive boys standing precariously on the brink of adulthood will soon discover the secret of the satanic raree-show's smoke, mazes, and mirrors, as they learn all too well the heavy cost of wishes - and the stuff of nightmare.
LISTEN TO AN EXCERPT:
MY REVIEW: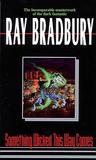 Something Wicked This Way Comes
by
Ray Bradbury
My rating:
4 of 5 stars
Something Wicked This Way Comes by Ray Bradbury is a 1998 Avon publication- originally published in 1962.
I can't believe it is already October, but at the same time, I'm glad it's here. October is one of my favorite months of the year! One reason for that is that I get to pull out a spooky or scary book and create fun blog posts for Halloween.
The downside is that there are so many books to choose from, and so little time to get them read. Usually, I only manage to get one horror novel read, out of the dozen or so I planned to read.
This year, however, deadlines be damned, I'm going to cram in as many horror stories in as possible.
Because I am such an avid reader, it is terribly embarrassing to admit there are so many 'classic' horror stories I haven't read. I've seen movie versions, but never got around to reading the book. This book falls into that category.
It's been many years since I watched the movie version, starring Jason Robards, but I do still remember parts of it. Still, I had forgotten more than I remembered, so reading this book felt like a fresh experience. However, this book may have shaken by enthusiasm for October and the beginning of autumn…
"For some, autumn comes early, stays late through life, where October follows September and November touches October and then instead of December and Christ's birth, there is no Bethlehem Star, no rejoicing, but September comes again and old October and so on down the years, with no winter, spring, or reviving summer. For these beings, fall is the ever normal season, the only weather, there be no choice beyond. Where do they come from? The dust. Where do they go? The grave. Does blood stir their veins? No: The night wind. What ticks in their head? The worm. What speaks from their mouth? The toad. What sees from their eye? The snake. What hears with their ear? The abyss between the stars. They sift the human storm for souls, eat flesh of reason, fill tombs with sinners. They frenzy forth. In gusts they beetle-scurry, creep, thread, filter, motion, make all moons sullen, and surely cloud all clear-run waters. The spider-web hears them, trembles- breaks. Such are the autumn people. Beware of them."
Jim Nightshade and Will Halloway are very best friends. But, when a late season carnival arrives in Green Town, their friendship, and maybe even their very lives are in jeopardy.
This short book, is packed with so much imagery, imagination, and intense suspense, it is hard to put it down. For me, the writing was a little hard to adjust to, with chopped sentences, separated by commas. It did force me to slow down and read more carefully, but didn't really affect the suspense, once I got into the groove.
Horror stories and movies can be taken strictly at face value, a lot of the time. There may not be much depth or symbolism to them- it is what it is. But, quite often there's an underlying theme, a moral to the story that gets overlooked if you aren't looking beneath the surface, or with a more critical eye. In this case, I think time is a central theme, and the book is chock full of clocks and references to them.
Charles Halloway, Will's father, is quite concerned about his age, having become a father later in life. Clocks are referenced metaphorically, and the town clock is a prominent prop.
There are other noteworthy allegorical symbols sprinkled throughout, all of which I will leave for you to decipher.
For me, though, the story has a more basic appeal. I'd be remiss if I didn't mention the library and how often books are referenced. But, this isn't a book about books- I just happened to enjoy seeing two boys enjoy reading books.
But, more importantly- how do the boys and Charles beat Dark and his minions? I think they come through to the other side of their ordeal armed with familial love and trust and the ultimate power of friendship.
While Bradbury has written books that speak of true horrors, cautionary and powerful, this one may not hit that plateau, but it is the perfect fireside tale of good versus evil.
GET YOUR COPY HERE:
https://www.amazon.com/Something-Wicked-This-Comes-Greentown-ebook/dp/B00C2C637I
https://www.barnesandnoble.com/w/something-wicked-this-way-comes-ray-bradbury/
ABOUT THE AUTHOR:
Throughout his life, Bradbury liked to recount the story of meeting a carnival magician, Mr. Electrico, in 1932. At the end of his performance Electrico reached out to the twelve-year-old Bradbury, touched the boy with his sword, and commanded, "Live forever!" Bradbury later said, "I decided that was the greatest idea I had ever heard. I started writing every day. I never stopped."