ABOUT THE BOOK:
In 1968, Olivia Hussey became one of the most famous faces in the world, immortalized as the definitive Juliet in Franco Zeffirelli's Romeo & Juliet. Now the iconic girl on the balcony shares the ups and downs of her truly remarkable life and career . . .
At only sixteen-years-old, she was an internationally celebrated overnight discovery. The part was an opportunity of a lifetime for a simple girl from Buenos Aires, Argentina. But for Olivia, admired for her beauty and innocence, and praised as a fresh and burgeoning young talent, the role of movie star was hard to play, and harder still, to live up to.
In this candid memoir, Olivia Hussey tells her story—from being an "It Girl" in swinging 60s London and her enduring friendship with
Romeo & Juliet
co-star Leonard Whiting, through three tumultuous marriages—including one with Dean Martin's son, Dino—motherhood,
stage-four breast cancer, debilitating agoraphobia, bankruptcy, and ultimately, a journey of self-discovery in India that led her on a path to fulfillment.
She brings readers intimately close to the legendary performers she knew, loved, worked with, and battled, including The Beatles, Vanessa Redgrave, Bette Davis, Elizabeth Taylor, Frank Sinatra, Liza Minnelli, Anthony Perkins, Christopher Reeve, Lawrence Olivier, Ingrid Bergman, and more. Olivia also finally reveals for the first time, the identity of the actor—a fellow young newcomer—who raped her, but who would not break her.
Featuring a foreword by her star-making director Franco Zeffirelli, Olivia Hussey's memoir shines with her luminous spirit and perseverance as she reflects on her unique life and experiences—inspiring, surprising, and fascinating to read about.
READ AN EXCERPT:
MY REVIEW:
The Girl on the Balcony: Olivia Hussey Finds Life after Romeo and Juliet
by
Olivia Hussey
My rating:
4 of 5 stars
The Girl on the Balcony: Olivia Hussy finds life After Romeo & Juliet- by Oliva Hussy is a 2018 Kensington publication.
Romeo, Romeo, wherefore art thou, Romeo-
Sometimes, like with Colin Firth as Mr. Darcy, an actor or actress personifies a role to such an extent, that character sticks to them for evermore. I think it is fair to say this about Oliva Hussy's portrayal of 'Juliet' in Franco Zeffirelli's 1968 adaptation of Romeo and Juliet.
Junior High- a class trip to see the 1968 version of Romeo & Juliet. My girlfriend's and I sat in the theatre, eaten up with our jealousy of Olivia Hussy. She was so beautiful, and Romeo, played by Leonard Whiting, was hot, hot, hot.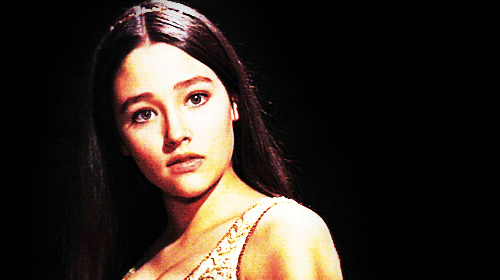 By the end of the movie, though, we all had tears streaming down our cheeks and red puffy eyes. Reading Shakespeare was a little tedious, especially in Junior High, so the movie was much easier for me to understand. The movie had a big impact on me, and I never forgot Olivia's performance. It was a career defining role.
Over the years, anytime the subject of Romeo and Juliet came up and I thought about this movie- (which was a hot topic back when my daughter was in high school because she was all about the Leonardo DiCaprio adaptation,) I would wonder about Olivia Hussy and whatever became of her.
So, when I saw this memoir, I knew I had to have it. Finally, I'd know all about Oliva Hussy and discovered what her career and private life has been like after becoming the face so many of us associate with 'Juliet".
Well, as it turns out, she was right under my nose all this time, playing in many movies and television shows, I'd watched- some of them numerous times, in fact- but somehow I never made the connection.
Everything in this memoir was a complete surprise to me. Her marriages, children, her philosophical and religious leanings, the challenges she faced personally and professionally, and her battle with serious health issues are recounted with pragmatism and in a voice that is real enough to draw the reader into her world.
Olivia has been through some dark periods of time, and suffered through some big disappointments, and made some pretty costly mistakes. Yet, her tone is practical, occasionally resigned, but mostly upbeat. In her youth, she battled challenges by becoming depressed or drinking too much, but the older she got, she faced adversity as with much more courage and strength.
The pacing of the book is a little too brisk, occasionally abrupt, only stopping to land briefly in each milestone of Olivia's life. On the plus side, she wasn't overly catty, vindictive or super gossipy about colleagues, or others she worked with, but did mention some on- set tensions- one of which was hardly surprising. She had mostly pleasant remarks to make about her ex-husbands and didn't do a lot of finger pointing, which was refreshing.
ROMEO AND JULIET MOVIE TRAILER
After completing this memoir, I think Olivia's life has been an interesting one. She was so young when she found fame and has lived a life within that bubble, which is the life of an actor, but her fame was not all consuming, and as a result her life wasn't as intruded upon by tabloids or paparazzi, as it might have been. Many aspects of her life surprised me, especially her third marriage- which was hard to imagine, but it seems to be the most stable relationship she's known.
She's an excellent actress, with a strong spirit, having endured several monumental events, and lived to tell the tale.
Overall, this book was revealing and interesting and I'm glad to know Olivia is well, and still working. I still have wonderful memories of watching Romeo and Juliet and was reminded of what a wonderful job Olivia did with such a challenging role- but I'm still a little jealous!
GET YOUR COPY HERE:
https://www.amazon.com/Girl-Balcony-Olivia-Hussey-Juliet-ebook/dp/B0776DVFZF/
https://www.barnesandnoble.com/w/the-girl-on-the-balcony-olivia-hussey/1127509423
ABOUT THE AUTHOR:
Olivia, a seasoned veteran of the London stage where she debuted opposite
Vanessa Redgrave
in "The Prime of Miss Jean Brodie", has appeared in over two dozen films, including
Death on the Nile
(1978) with
Bette Davis
and
Peter Ustinov
,
Jesus of Nazareth
(1977) (united again with the great Zeffirelli),
Last Days of Pompeii
(1975) opposite Sir
Laurence Olivier
,
Lost Horizon
(1973),
The Bastard
(1978), Hallmark's Hall of Fame
Ivanhoe
(1982) with
James Mason
, Showtime's
Psycho IV: The Beginning
(1990) and
It
(1990). She has also guest-starred in numerous television series.