ABOUT THE BOOK:
A very practical marriage makes Alexander Westcott question his heart in the latest Regency romance from the New York Timesbestselling author of Someone to Hold.

When Alexander Westcott becomes the new Earl of Riverdale, he inherits a title he never wanted and a failing country estate he can't afford. But he fully intends to do everything in his power to undo years of neglect and give the people who depend on him a better life. . . .

A recluse for more than twenty years, Wren Heyden wants one thing out of life: marriage. With her vast fortune, she sets her sights on buying a husband. But when she makes the desperate—and oh-so-dashing—earl a startlingly unexpected proposal, Alex will only agree to a proper courtship, hoping for at least friendship and respect to develop between them. He is totally unprepared for the desire that overwhelms him when Wren finally lifts the veils that hide the secrets of her past. . . .
READ AN EXCERPT:
MY REVIEW: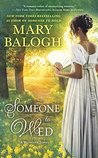 Someone to Wed
by
Mary Balogh
My rating:
5 of 5 stars
Someone to Wed by Mary Balogh is a 2017 Berkley publication.
A tender, but
redemptive love story
, that gave me so many
feels
!
While this series has been quality reading up to this point, as is most anything Mary Bologh pens, I was still suffering a bit of a book hangover from the 'Survivor' series, which was absolutely amazing. Up to this point the first two books in the Wescott series have failed to really grab me in the same way.
However, this third installment was the perfect remedy for my previous lethargic response to the Wescott saga.
Alexander has been a wonderful character in this series and I am so happy he got his own story. With an inherited title, came a country estate in dire need of repair. With limited funds, his only choice is to marry for money.
It was therefore quite fortuitous when he is summoned to the home of Wren Heyden, a wealthy businesswoman who is looking for a husband. Her marriage proposal, which would simply be an a marriage of convenience
,
but one Wren hopes will quell her soul deep loneliness, and provide her with children, is very tempting to Alexander, and he can't dismiss it out of hand.
The couple agrees to see how well they might get along before making any decisions, but this task is more difficult than it should be, due to Wren's extreme social anxiety and awkwardness around other people.
Can the couple find a way around their differences or will Wren's insecurities prevent her from making a commitment?
Wren's years in seclusion have made her appear aloof, or cold, when nothing could be further from the truth. She has endured so much, most of it needlessly, but with Alexander's openness and willingness to draw her out, to encourage her to step out into the open more often, Wren flourishes.
Alexander may need to marry for money, something his family is very sad about, but every day he spends with Wren, the deeper he falls in love with her. He admires her unconventionality, her lack of pretentiousness, her intelligence, and incredible courage and inner strength, and so did I!! She is a most remarkable character, one that is both vulnerable and inspirational.
This story touched my heart! I loved this couple and their journey together!! The characters are front and center, there is no childish, immature angst, but the emotions and feelings of these richly drawn characters pulled at my heart, and, moved me deeply, evoking sincere empathy and compassion, which is Mary Bologh's signature touch.
This is, quite simply, a beautiful love story, the kind we ALL need a lot more of!
GET YOUR COPY HERE:
https://www.amazon.com/Someone-Westcott-Novel-Mary-Balogh-ebook/dp/B06VTV29NX/ref
https://www.barnesandnoble.com/w/someone-to-wed-mary-balogh/1125762011
ABOUT THE AUTHOR: