ABOUT THE BOOK:
Good Me Bad Me is dark, compelling, voice-driven psychological suspense by debut author Ali Land.
How far does the apple really fall from the tree?
Milly's mother is a serial killer. Though Milly loves her mother, the only way to make her stop is to turn her in to the police. Milly is given a fresh start: a new identity, a home with an affluent foster family, and a spot at an exclusive private school.
But Milly has secrets, and life at her new home becomes complicated. As her mother's trial looms, with Milly as the star witness, Milly starts to wonder how much of her is nature, how much of her is nurture, and whether she is doomed to turn out like her mother after all.
When tensions rise and Milly feels trapped by her shiny new life, she has to decide: Will she be good? Or is she bad? She is, after all, her mother's daughter.
LISTEN TO AN EXCERPT:
MY REVIEW: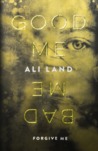 Good Me, Bad Me
by
Ali Land
My rating:
5 of 5 stars
Good Me, Bad Me by Ali Land is a 2017 Penguin Books publication.
Disturbing- Completely shocking!
It takes a lot to well and truly wreak havoc with my psyche, to really give me a case of the shivers, and leave me feeling unsettled.
This book took me down that path, and I won't forget it anytime soon.
The story is told through the eyes of fifteen- year old Milly, who has just turned her own mother, a serial killer, over to the authorities.
Summarily, Milly is placed in foster care, in what appears to be an ideal household, with her foster father, Mike, doubling as her therapist.
Yet, the household is far from stable. Mike and his wife have a teenage daughter of their own, named Phoebe, who, unaware of Milly's past, is jealous of the time her father spends with Milly. Phoebe
decides
to punish Milly by making her already difficult life, absolutely miserable.
As Milly awaits her mother's trial, where she is set to testify in person, despite her age, she sits through therapy sessions with Mike, befriends another girl, a fellow outcast named Morgan, and endured horrific bullying from Phoebe and her minions, all the while struggling with the side of her that favors her mother's tendencies.
'But the hearts of small children are delicate organs. A cruel beginning in this world can twist them into curious shapes.'
Carson McCullers (1917-1967)
The question then arises- Will good win the battle over Milly's dark proclivities or will she eventually give herself over them?
Right way
, I knew this journey was headed down a dark, twisted path. I read with increasing trepidation, as Milly's harrowing story unfolds. Milly's mother, a female serial killer, whose voice is always running in Milly's mind, planting seeds of doubt, is absolutely chilling.
The secondary characters are well written, each contributing to Milly's increasing anxiety, tempting her, misunderstanding her complexities and vastly underestimating the extent of her damaged character.
As promised, this is a very controversial novel, one that
really set
my teeth on edge, and made my stomach churn with apprehension, really making me squirm.
As a debut novelist, the author went
with
'write what you know' as she is a mental health professional, herself. Her expertise was put to good use, and was without a doubt a monumental advantage in portraying the psychology behind Milly's unbearable angst.
Overall, I think this novel is one of the best psychological thrillers I've read this year. It might not be for everyone, but upon much reflection, I think the story is more troubling that it appears on the surface, which is weighty enough, but it also opens up a plethora of questions and endless 'what if' scenarios, that kept my brain buzzing deep into the night.
Allegory and symbolisms abound with frequent, sly, and carefully orchestrated references to 'Lord of the Flies' and 'Peter Pan', which I will leave for you to draw your own conclusions.
This is an outstanding debut novel. I highly recommend it to fans of psychological thrillers, especially. This one will mess with your mind and conscience, all at once, and I promise, despite all the comparisons to the 'girl' books, this one is unlike anything you've encountered, blowing all the coattail riders in this category right out of the water.
The only thing left to say is – Read this book!
GET YOUR COPY HERE:
https://www.amazon.com/Good-Me-Bad-Novel-ebook/dp/B06X8ZM4M6/
https://www.barnesandnoble.com/w/good-me-bad-me-ali-land/1124895175
ABOUT THE AUTHOR:
After graduating from university with a degree in Mental Health, Ali spent a decade working as a Child and Adolescent Mental Health Nurse in both hospitals and schools in the UK and Australia. Though a voracious reader from a young age and a keen observer of the world, it took Ali over thirty years to put pen to paper but she sure is glad she did! Ali's debut novel Good Me Bad Me is an international bestseller and will be translated into twenty-three languages. It was short-listed for The Most Unreliable Narrator at the Dead Good Reader Awards, short-listed by the Crime Writers Association for the John Creasey New Blood Dagger and won Book Of The Year at Heat magazine Unmissables Awards. It's also a New York Times Editors choice and a Richard and Judy book club pick. Ali is now a full-time writer and lives in London and is currently working on her second novel.
Follow Ali on Twitter and Instagram @byAliLand