ABOUT THE BOOK:
A grumpy yet loveable man finds his solitary world turned on its head when a boisterous young family moves in next door.

Meet Ove. He's a curmudgeon, the kind of man who points at people he dislikes as if they were burglars caught outside his bedroom window. He has staunch principles, strict routines, and a short fuse. People call him the bitter neighbor from hell, but must Ove be bitter just because he doesn't walk around with a smile plastered to his face all the time?

Behind the cranky exterior there is a story and a sadness. So when one November morning a chatty young couple with two chatty young daughters move in next door and accidentally flatten Ove's mailbox, it is the lead-in to a comical and heartwarming tale of unkempt cats, unexpected friendship, and the ancient art of backing up a U-Haul. All of which will change one cranky old man and a local residents' association to their very foundations.
LISTEN TO AN EXCERPT:
MY REVIEW: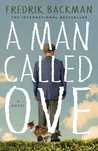 A Man Called Ove
by
Fredrik Backman
My rating:
5 of 5 stars
A Man Called Ove by Fredrik Backman is a 2014 Atria publication.
After I read 'Britt-Marie Was Here' and really enjoyed it, my Goodreads friends strongly recommended this book, and were positive I would love it. I vowed to fit the book in as quickly as possible, and was thankful my library had a copy and the wait list wasn't monstrous.
I have no idea where to begin! This an amazing story, with the most interesting characters, humorous and emotional situations. The writing is unusual, with present tense mingled with past tense.
Ove
appears, in the beginning, as though he is a cranky old man, maybe a little anal, but there is also a loneliness surrounding him, and a sense of despair.
As the story progresses, we learn about Ove's background, his marriage, and how he got to this point where he attempts to end his life, but is always inadvertently prevented from succeeding.
Ove
may have been reserved, but his life has meant more, and his influence has reached further, than he ever thought.
Every person has a history. We see people on the surface, without knowing anything about them, and make judgements. I did that with Ove in the beginning, but by the end of the book, my opinion of him and respect for him had grown immeasurably.
I loved the various secondary characters, including the cat and of course the Saab!! But, the relationship between Sonja and Ove is the most poignant and effective part of the novel.
"
Ove
had never been asked how he lived before he met her. But if anyone had asked him, he would have answered that he didn't."
Although Ove is dragged out of his shell kicking and screaming, he finally begins to live again, in the most eccentric, but enchanting way!
This book lived up to any and all of my expectations and then some!!
GET YOUR COPY HERE:
https://www.amazon.com/Man-Called-Ove-Novel-ebook/dp/B00GEEB730/
http://www.barnesandnoble.com/w/a-man-called-ove-fredrik-backman/1117313627
ABOUT THE AUTHOR:
Fredrik Backman, a blogger and columnist, is the New York Times bestselling author of A MAN CALLED OVE and MY GRANDMOTHER ASKED ME TO TELL YOU SHE'S SORRY. Both were number one bestsellers in his native Sweden and around the world, and are being published in more than thirty five territories. His latest novel is BRITT-MARIE WAS HERE. He lives in Stockholm with his wife and two children. Visit him online at his blog: FredrikBackman.com, on twitter @backmanland, or on instagram @backmansk.