ABOUT THE BOOK:
A Highland warrior battles to reclaim his birthright in the first of a new series filled with seduction, revenge, and soul-stirring passion…

They call him the Beast—a hardened mercenary whose heart seems as cold as his icy blue gaze. They do not know his true name: Niall Braewick, son of the Laird of Kincaid. It has been years since he escaped into the forest the night his father was murdered. Now he has returned, ablaze with a vengeful hunger. He will gain the MacClaren chief's trust, gather his clan, and take back his lands. And take the MacClaren's daughter as well…

Though he pulled her from the river, saving her life, Elspeth has been warned to keep her distance from her father's hired warrior. He is a barbarian—a shame, as he is far more compelling than the lechers and fools competing for her dowry. Little does she know that, like the castle itself, she is a prize Niall intends to claim…but will he extract blood for blood and possess what is his, or will his enemy's beautiful, innocent daughter tempt him to forsake his dream of conquest?
MY REVIEW: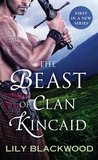 The Beast of Clan Kincaid
by
Lily Blackwood
My rating:
4 of 5 stars
The Beast of Clan Kincaid by Lily Blackwood is a 2016 St. Martin's Press publication. I was provided a copy of this book by the publisher and Netgalley in exchange for an honest review.
Any historical romance set in Scotland and featuring Highlanders is going to tempt me. But, then I started seeing a few reviews trickle in for this book and I had a feeling this one was going to be better than I could hope for.
All I can say is, I was not disappointed, and understand why this book generated so much commentary.
When I say this story grabbed my attention from the very beginning, I'm not just repeating an overused phrase. I'm serious! A bloody battle that leaves a little boy alone in the world, sets the stage for a taut, suspenseful tale of vengeance and justice, and a fine, emotional love story, as well.
After seventeen years, Niall has returned home to reclaim what is rightfully his. He infiltrates his enemy's domain under the guise of being a mercenary. While his plan works beautifully, he never anticipated what might be a truly tragic twist of irony, as he falls hard for the enemy's beautiful daughter, Elspeth, and she falls in love with him.
Elspeth has no idea who Niall really is, which only adds more suspense to an already difficult situation. Naturally, I knew this could not end well. It's that feeling you get when you have no choice but to sit by and watch as events hurl toward an outcome you are helpless to prevent.
Elspeth's role is to marry advantageously, doing her duty to her clan. She knows the time has come to make a decision, especially since her father's health is failing and there is an uneasiness among the clans that her marriage would soothe.
However, since her choices are far from pleasant, she doesn't wish to marry any of them, duty or not. Of course, it greatly complicates matters for her when she falls hard for Niall, which leaves her torn over her love for him and her duty.
The difficulty for me, as a reader, is that I liked Niall and Elspeth, respectively. I understood Niall had to do what was right, in his eyes, and sadly this meant Elspeth could become collateral damage. Elspeth is a strong willed woman who stands up to the old traditions and dares to defy them, all while attempting to do what is right for everyone, despite the very painful personal sacrifice of her happiness.
So, it's hard to pick a side, as I am sympathetic to both characters. The author does a fabulous job of devising such a scenario, while adding intense intrigue into the mix as various men plotted to win Elspeth's hand in marriage. It is utterly fascinating, but infuriating as well, since women were often used as a bargaining chip.
The set-up, a dire as it appears, sets the stage for an epic kind of love story, which is right up my alley. While the attraction between Niall and Elspeth is evident in their first encounter, their love builds over time, as they continue to meet in the most unusual of circumstances. Yes, all of this occurs in a short span of time, but that was not uncommon in this era of time, and I thought it added an element of urgency to the story, since Elspeth is running out of time, and her time with Niall is growing short.
But, a stunning plot twist will change things drastically, adding even more emotion to the story, and perhaps a little controversy, but will also open the door just a little for the whole sad truth to come out which gave me a tiny sliver of hope for this couple. Niall is certainly a noble, fair, and honorable man, and Elspeth saw that in him, despite finding herself once more torn between Niall and her family.
This story is a quick read, but is constructed well, for the most part. I wondered at times about the sudden change in personality with some characters, without explanation, other than perhaps the growth of a grudging respect, but other than that puzzling change of heart, the characters were all well drawn, with even pacing that kept me engaged and emotionally invested in the story, which came with a very surprising twist at the end that is very special, setting up the next installment in the series quite nicely.
Overall, this is a rousing, sensual, and emotional Scottish romance that kept me entertained from start to finish and was quite enjoyable.
GET YOUR COPY HERE:
https://www.amazon.com/Beast-Clan-Kincaid-Highland-Warrior-ebook/dp/B01827IPZY
http://www.barnesandnoble.com/w/the-beast-of-clan-kincaid-lily-blackwood/1122537861
ABOUT THE AUTHOR:
Lily Blackwood lives in Texas, with her husband, their two teenagers, a devoted red golden retriever and two rascally cats. She enjoys flea markets, cooking, eating and not cleaning her house! She recently taught herself to knit and has been making a mess with yarn ever since. She loves all things historical, and finds it thrilling to imagine a time period where each day held very real dangers, and true love stories and happily-ever-afters were precious and rare. Lily loves to hear from readers! She invites you to visit her website at www.lilyblackwood.com
Lily is also the RITA Nominated author of Regency romances, Lily Dalton