ABOUT THE AUTHOR:
Twenty years running from your past. Today it catches up.
A gripping psychological thriller for fans of Gone Girl and The Girl on the Train.
Leah Mills lives a life of a fugitive – kept on the run by one terrible day from her past. It is a lonely life, without a social life or friends until – longing for a connection – she meets Julian. For the first time she dares to believe she can live a normal life.
Then, on the twentieth anniversary of
that
day, she receives a card.
Someone knows the truth about what happened.
Someone who won't stop until they've destroyed the life Leah has created.
But is Leah all she seems? Or does she deserve everything she gets?
Everyone has secrets. But some are deadly.
MY REVIEW: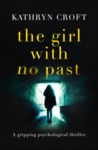 The Girl With No Past
by
Kathryn Croft
My rating:
4 of 5 stars
The Girl with No Past by Kathryn Croft is a 2015 Bookouture publication. I was provided a copy of this book by the publisher and Netgalley in exchange for an honest review.
Well written Psychological thrillers are hard to come by, and I couldn't help but notice this one was very well received, so I have been looking forward to reading this one.
Right from the start the reader picks up on Leah's chosen, yet not by choice, lifestyle. She is hiding away from a dark and troubled past, shoves people away who try to get close to her, but craves friendship and companionship.
But, when Leah begins to receive a string of notes and emails reminding her of her past, suggesting she has gotten away with something, and it is now time to pay the piper, Leah begins touching base with people from her past trying to figure out who is tormenting her. In the process the reader is taken back in time to Leah's high school days, with the story of how Leah came to this point in her life, slowly unfolding.
The mystery here has several layers:
What did Leah do that she must now pay a penance for?
Who is stalking her?
Is she in danger or is she really the bad guy?
Are her new friends/ lovers trustworthy?
This story is edgy, dark, atmospheric, and has all the trademarks of a good thriller. It's absorbing, keeping the reader in a constant state of suspension. The twist and turns are perfectly timed and are not included for mere shock value. I admit I fell for the whole set up, hook, line and sinker. But, still at the end of the day, there was just something too pat about the story, even with that last minute revelation that left me with a little spine tingle, I still came away from it feeling the story was a little flat, somehow.
This could simply be an occupational hazard. Reading as often and as much as I do, it is easy to become a little jaded. Having said that, I still enjoyed the book and think it's a solid thriller, and can see why so many people have enjoyed it.
I don't think I have read anything else by this author, but I am impressed enough to keep my eyes open for any future releases from her. I can see real potential here and have a feeling this author is on the cusp of becoming a well-known name within this genre.
While I can't say I loved this one as well as most, it is still a very good book that I would recommend to lovers of psychological thrillers.
4 stars
BUY YOUR COPY HERE:
http://www.amazon.com/Girl-No-Past-gripping-psychological/dp/1910751243/ref
http://www.barnesandnoble.com/w/the-girl-with-no-past-kathryn-croft/1122664089
ABOUT THE AUTHOR:
Kathryn is always seeking new challenges and has had a wide and varied career before writing her first novel. After gaining a BA Honours Degree in Media Arts with English Literature, she worked in human resources and management training. But it wasn't long before her passion for literature led her to train as a teacher and study for a Post Graduate Certificate in Education. She then spent six years teaching secondary school English; a job she believes was invaluable to her writing career.
Kathryn now devotes all her time to writing and is currently working on her fifth novel.
Having always been an avid reader, Kathryn believes in the power of words to entertain, teach and transform lives. Now that she has achieved the dream she has held onto since childhood – to write a full-length novel – her new goal is to be as successful as the bestselling authors she admires. She firmly believes anything is possible if you work hard enough and never give up!
Kathryn lives in Guildford, Surrey with her husband, their baby son and two cats.
MORE FROM THIS AUTHOR:
Eighteen years ago your baby daughter was snatched. Today, she came back.
Eighteen years ago, Simone Porter's six-month-old daughter, Helena, was abducted. Simone and husband, Matt, have slowly rebuilt their shattered lives, but the pain at losing their child has never left them.
Then a young woman, Grace, appears out of the blue and tells Simone she has information about her stolen baby. But just who is Grace – and can Simone trust her?
When Grace herself disappears, Simone becomes embroiled in a desperate search for her daughter and the woman who has vital clues about her whereabouts.
Simone is inching closer to the truth but it'll take her into dangerous and disturbing territory.
Simone lost her baby. Will she lose her life trying to find her?
BUY IT NOW!