Struggling writer Jack Dillon's personal and professional life is falling apart…until he gets a lucrative gig writing the biography of TV comedy icon Walt Stuckey, who mysteriously walked away from Hollywood at the height of his popularity…and left his millions of fans wondering why for decades. Now Walt's going to answer the tantalizing question, assuring that his biography will become a massive bestseller and Jack's salvation. But when Walt is finally ready to tell Jack his big secret, things go terribly, unpredictably wrong, pushing the desperate author into kidnapping…becoming a fugitive chased by the police, the FBI, the news media, a crazed assassin, and Walt's talentless & psychopathic son…just to finish the book. It's a brutally original, crazy ride through California, Death Valley and TV history as Jack tries to solve the mystery and craft a perfect finale that doesn't end with him going to prison… or to his grave.
MY REVIEW: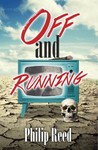 Off And Running
by
Philip Reed
My rating:
4 of 5 stars
Off and Running by Philip Reed is a 2015 Brash Books publication. I was provided a copy of this book by the publisher and Netgalley in exchange for an honest review.
I had no idea what to expect when I started this book, but I knew after the first chapter I was going to like it.
Walt Stuckey was the fabulously funny star of a wildly popular television variety show until 1973, when his show was suddenly and without warning, canceled. Although Walt has been out of the spotlight for some years, he had decided it was time to tell his story.
Enter Jack Dillion, a playwright and TV writer, who is down on his luck at the moment. His agent commissions him to write Walt's autobiography, which is the best thing to happen to Jack in a long while. But, his good luck runs out quickly when Walt has a debilitating stroke and his son, Garrett, takes over the estate, and the creative license over the book. Things go from bad to worse when Garrett decides Jack is off the project, forcing him to take drastic measures....
Set right on the cusp of the new millennium, this caper style novel is a nice, fast paced story, with many twist and surprises. I loved the style of writing, the nostalgic atmosphere, the poignancy, the wit, and satirical tone, and slight brush of dark humor, employed by the author.
I couldn't help but laugh at Jack on occasion, when I could almost hear the wheels turning in his head. He is a writer first and foremost, (despite that part of his career being in the tanker for awhile), and will rationalize things any way he can to get this book deal, to get it finished , and see it published, because this opportunity will open the door for much more success later on. It will be his break through , he could become a household name. So, while the bond he forged with Walt is at the heart of his startling decisions, his author ego is lurking in the background, also playing a role in his choices, even if it's subconsciously.
The relationship between Jack and Walt was interesting because they were kind of alike in many ways.
"Jack turned off the tape and lay in the dark, thinking back over the past few months. He loved sitting around the coffee table in Walt's Hollywood Hills house talking about the show, bringing the memories alive in Walt's mind again. He remembered how he had begun writing the first chapters and found the words coming faster than he could get them on the page. He'd always remember the day Walt called him and said he liked the chapters.
' We're off and running, kid!'
He had been on top of the world after that call. Now Walt was silent, and Jack was alone again."
While character analysis isn't necessarily the point of the story, I enjoyed drawing up the comparisons between these two ego driven men, with their large personalities.
But, mostly this is a fun, action filled, caper with kidnappings, murder, suspense, a mean and nasty bad guy, old family secrets, and a shocking, conclusion you will never see coming.
This story is highly entertaining, and I recommend it to those who enjoy a good action packed caper or enjoy mystery novels of any kind. 4 stars
GET YOUR COPY HERE:
http://www.amazon.com/Off-Running-Philip-Reed-ebook/dp/B00X6LSUJ8/ref=sr_1_1?s=digital-text&ie=UTF8&qid=1439056535&sr=1-1&keywords=off+and+running
Philip Reed's first novel, Bird Dog, earned him Edgar and Anthony award nominations. He currently test drives cars and writes features for an on-line automobile site.