New York Times and USA TODAY bestselling author Jennifer Probst sparks a blissful mind-body connection as her "sexy, satisfying" (Kirkus Reviews) new series continues!
She's an expert in helping others de-stress, but Arilyn Meadows is running on fumes. Along with her job counseling singles seeking soul mates at the Kinnections agency in Verily, New York, she's a yoga teacher, animal shelter volunteer, anger management therapist, and helping hand to her beloved grandfather. No time to find Mr. Right—but after discovering her yogi boyfriend in a compromising asana, Arilyn would rather dog-sit for her honeymooning friend Kate than risk her heart on another downward dog. And when police officer Stone Petty—radiating masculinity and bad-boy attitude—is sent to her for mandatory lessons in cooling off when the job gets too hot, Arilyn vows to ignore his seductive glances and sexy grin. But there's no halting their sizzling flirtation—a red-hot, high-speed chase that's breaking all the limits.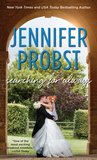 Searching for Always by Jennifer Probst
My rating: 5 of 5 stars

Searching for Always by Jennifer Probst is a 2015 Gallery Books publication. I was provided a copy of this book in exchange for an honest review.

While the previous book in this series had a more serious tone, "Searching for Always" has a light touch to it with zany characters and adorable puppy dogs.

Arilyn is trying to move on after catching her long term boyfriend in the act of cheating on her. Having a little trouble staying serene herself, having Stone Petty, an officer of the law she had a previous encounter with, join her anger management class will give Arilyn more of a challenge than she bargained for.

Stone is indeed having little trouble keeping his rage in check. This anger management course is required before he can return to work, so he must endure yoga, dogs, and his hot teacher, all while trying to stop smoking.

The truth is these two are like oil and water. They can't agree on anything except the physical attraction and chemistry between them. I couldn't stop a few belly laughs here and there, especially when it came to Stone. He's grumpy, stoic, complains about everything, and is real skeptic when it come to love.

But, Arilyn and an adorable Chihuahua named "Pinky" will give Stone the first real incentive in his life to work at a relationship, to see it through the good times and the bad times, something he hasn't been able to commit to previously.

This is such a fun book with great characters, including Arilyn's friends, whom you have all met before, if you have been following the series, ( no worries if you haven't, this one can be read as stand alone) , plus a few other secondary characters that round out the cast, giving the story a great balance and lots of vitality.

It's always great to see two people who experience bad luck in the romance department find their one true love and realize this was the person they were looking for all along. I never would have put Arilyn with a guy like Stone, but as it turns out, he is perfect for her and vice versa.

If you like feel good stories, hot and steamy romance, with lots of depth and heart, you really should try out this whole series. This book ranks right up there with the previous installments in the series and certainly left me in a good mood! True love ROCKS!
4.5 stars

View all my reviews
a Rafflecopter giveaway
Goodreads link: https://www.goodreads.com/book/show/23492311-searching-for-always
Amazon: http://amzn.to/1H8ZIPC
Barnes & Noble: http://bit.ly/1dbuKsj
Jennifer Probst wrote her first book at twelve years old. She bound it in a folder, read it to her classmates, and hasn
'
t stopped writing since. She took a short hiatus to get married, get pregnant, buy a house, get pregnant again, pursue a master
'
s in English Literature, and rescue two shelter dogs. Now she is writing again.
She makes her home in Upstate New York with the whole crew. Her sons keep her active, stressed, joyous, and sad her house will never be truly clean.
She is the New York Times, USA Today, and Wall Street Journal bestselling author of sexy and erotic contemporary romance. She was thrilled her book, The Marriage Bargain, was ranked #6 on Amazon's Best Books for 2012. She loves hearing from readers. Visit her website for updates on new releases and her street team at
www.jenniferprobst.com
.
Website:
www.jenniferprobst.com