The highly anticipated third novel in the Searching For series from Jennifer Probst, "one of the most exciting breakout novelists" (USA Today), featuring a runaway bride and the man who wants to be more than just her best friend...

Genevieve MacKenzie has her life completely under control. About to wed the charming Chief doctor at the local hospital, she's an up-and-coming surgeon with everything she could ever want. Until an escape through the church window on the day of her wedding sends her life into a tailspin...and flings her right into her best friend's arms.

When Wolfe catches his best friend falling out a window on her wedding day, he doesn't ask questions. He whisks her away, determined to watch over her and discover the truth behind her desperate escape. But when his feelings turn more than platonic, he realizes he may risk his most important relationship in order to protect his damaged heart, and the woman he loves.

Can Genevieve and Wolfe's friendship turn into something deeper—or is it already too late for true love?
MY REVIEW: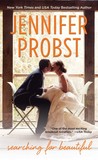 Searching for Beautiful
by
Jennifer Probst
Searching for Beautiful by Jennifer Probst is a 2015 Gallery Books publication. I was provided a copy of this book by the publisher and the S&S XOXperts- The Official Street Team for XOXO After Dark.
Many of you will recognize Wolfe from a previous series, so having him featured in his own story is exciting. ( This book can be read as a stand alone- so don't worry if you aren't caught up with the other series)
When I picked the book up, I thought I knew what I as getting into. Friends to lovers has always been one of my favorite romance tropes, and with the premise of a runaway bride in the mix I was thinking of Julia Roberts and Richard Gere. Well, this story is nothing like that...
If you have read Jennifer Probst novels in the past you might find this one a little bit surprising. There are some uncomfortable topics addressed in the book and one should be prepared for a darker tone with this novel.
Wolfe has come from a very difficult background but was given a second chance in life by some really awesome people. He and Gen have always clicked, been great friends, but nothing more. But, Wolfe has always sensed something off about Gen's future husband, David, so, when Gen listens to that voice in her head telling her to RUN!
-
Wolfe doesn't ask questions, he simply whisks her away from her wedding and the alleged charmed life with David she was about to embark on.
Wolfe and Gen spend several days together having the time of their lives, but sooner or later Gen must return home and face David and her family. Thus begins a massive tug of war between Gen and David, with Wolfe in the middle. But, Gen is stronger than she knows and if there was ever a time to follow her heart, it is now. But, will outside forces and Wolfe's past prevent them from having their HEA?
This is a very different friends to lovers story, one I wasn't really expecting , but one that left me feeling very impressed.
I loved Wolfe, but his story is very difficult to read about. I think his outlook on life and the progress he has made proves that even if you don't get the best start in life, you can change how your future unfolds. Granted, Wolfe was given a chance many aren't lucky enough to get, but it was still up to him to make the best of that second chance, which he does - and it really pays off for him. In fact, Wolfe is the best hero I have encountered in awhile.
Gen makes a lot of progress in this book too, but she certainly made me nervous a time or two. I was terrified she would crumble under David manipulations and pressure from her family. At times I felt she should have taken a harder line in defending herself, but all in all, she did what she felt was right at the time. Gen is a great character with an open heart and mind, which complimented Wolfe perfectly.
I was disappointed in some of the secondary characters who advised Wolfe, and was proud of others who were supported Gen, when others didn't.
This story is not only one of romance and sensuality, although there is plenty of both, and ladies -Wolfe is all you dreamed he would be and then some, but this story is also packed with depth and meaning making the journey with Gen and Wolfe all the more special.
a Rafflecopter giveaway