ABOUT THE BOOK:
When the Bat's away, the Cat will play. It's time to see how many lives this cat really has. . . .
Two years after escaping Gotham City's slums, Selina Kyle returns as the mysterious and wealthy Holly Vanderhees. She quickly discovers that with Batman off on a vital mission, Batwing is left to hold back the tide of notorious criminals. Gotham City is ripe for the taking.
Meanwhile, Luke Fox wants to prove he has what it takes to help people in his role as Batwing. He targets a new thief on the prowl who seems cleverer than most. She has teamed up with Poison Ivy and Harley Quinn, and together they are wreaking havoc. This Catwoman may be Batwing's undoing.
LISTEN TO AN EXCERPT:
MY REVIEW:
Catwoman: Soulstealer
by
Sarah J. Maas
My rating:
4 of 5 stars
Catwoman: Soul Stealer (DC icons #3) by Sarah J. Maas is a 2018 Random House publication.
I've seen this author's name on Goodreads a lot and apparently her fantasy series is really something. I do hope to someday visit that series, even though I'm not a huge YA fan, but the reason I chose this book had little to do with the author, and more to do with subject – Catwoman. In fact, when I checked the book out at the library, I didn't even check to see who wrote the book- nor did I notice 'for young readers' tag line. But, as some of you know, I recently developed an interest in comics and graphic novels, but there are so many stories surrounding the iconic DC comic characters it is hard to know here to begin.
But, this series, which at the time of this writing, as four installments- Batman, Superman, Wonder Woman and Catwoman, tells a story about the origins of these iconic DC comic characters. This series is, for young readers, I presume, but I thought it was pretty awesome. To be clear, this is not a graphic novel. It is a text only story, but I read it to gather more insight into the characters featured in the comics.
I was always intrigued by Catwoman. She isn't a goody-goody, but she isn't evil either. Of course, since the campy television series, Catwoman has been highly sexualized, outfitted in a skin- tight leather outfit. However, this book really downplays that angle-thank goodness, and gives us a complex character and offers a valid reason for her chosen path. That alone scores a few automatic points. Her partners in crime are also interesting, adding even more angles to explore.
However, I wasn't familiar with Batwing, so this book was my first introduction to him. Instead of being a temptation to Batman, as I am most accustomed, Selena Kyle- aka- Catwoman, enthralls Batwing, who is supposed to be keeping Gotham City safe while Batman is away. They have the same dynamic really, forcing Batwing to soften his stance and concede to extenuating circumstances, setting up an intriguing and conflicting relationship between the two characters.
In my opinion, this author did a good job with this book. Although it is an easy read, it is very imaginative, with some darker tones, and I believe there's a little grit in here, too.
This book was very cool, I thought, although I see the ratings on this one varies, wildly. But, at the end of the day, whatever the criticisms might be- I didn't read them- I liked it. So, I think I'll hunt down the other books in the 'DC icon' series, too.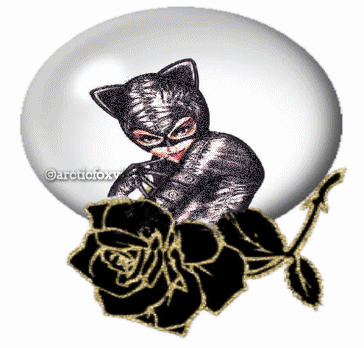 GET YOUR COPY HERE:
https://www.amazon.com/Catwoman-Soulstealer-DC-Icons-Book-ebook/dp/B077CQ6KW2/
https://www.barnesandnoble.com/w/catwoman-sarah-j-maas/1127456957
ABOUT THE AUTHOR:
Sarah J. Maas is the New York Times and USA Today bestselling author of the Throne of Glass series (Queen of Shadows, Book 4, will be out in September 2015), as well as the A Court of Thorns and Roses series (out 5/5/15).
Sarah lives in Bucks County, PA, and over the years, she has developed an unhealthy appreciation for Disney movies and bad pop music. She adores fairy tales and ballet, drinks too much tea, and watches an ungodly amount of TV. When she's not busy writing, she can be found exploring the historic and beautiful Pennsylvania countryside with her husband and canine companion.