ABOUT THE BOOK:
Years ago, Miss Esme Astell fell hopelessly in love with Charles Brittle, an unassuming and highly respectable London bookmaker.
Then he disappeared without a word.
The last thing Esme ever dreamed was to meet Charlie again —
In a dark alleyway —
In a drenching rain —
In a chase with the police —
In Scotland.
Can she resist falling again, this time for the dangerous scoundrel he's become?
READ AN EXCERPT:

MY REVIEW:
The Pirate and I
by
Katharine Ashe
My rating:
4 of 5 stars
The Pirate and I by Katharine Ashe is a 2017 Avon Impulse publication.
What a lovely, fast paced, adventurous romance!!
Esme loved Charles a long time ago, but he never seemed to notice her. One day, he just up and disappeared after losing the woman he loved to another.
Two years have passed, and Esme has arrived in Scotland to attend a conference for the Society of Perfumers. From there she hopes to travel to Paris and earn enough money to help her sisters, who desperately need rescuing from a life of poverty.
The last person on earth she expected to encounter was Charles Westley Brittle. Not only does she encounter him, they literally run into each other, and she saves his life in the process, but receives a nice, warm kiss as her reward.
'Courage is no more than surviving fear from one moment to the next'
However, Charles needs Esme's help in sniffing out a special dog he plans to steal in order to return it to its rightful owner.
Unable to resist the promise of adventure- or Charles- Esme finds herself caught up in Charles' criminal exercises, even after she discovers he is a living, breathing Pirate!!
Charles has a complicated past, but he only wants to free himself of the life he's trapped in and right the wrongs he committed. With Esme's help, maybe he can get a fresh start in life, for both their sakes.
Can these star -crossed lovers finally find a way to merge their plans, hopes, desires, and dreams so they can have a life together?
I love a good Pirate tale, but, alas, they are far and few between these days. So, the title of this novella, which is part of the 'Devil's Duke' series, caught my eye, and piqued my interest immediately. To top it all off, Katharine Ashe is one of my favorite historical romance authors, and as such, is one of the rare few who can tempt me away from my 'romance diet'.
I really enjoyed this short, but action packed novella, and loved Esme and Charles' love story! The couple has an amazing chemistry and shared the most delightful dialogue between them. I loved it when Esme constantly referred to Charles by his full name -Charles Westley Brittle- and the way they worked together to accomplish their goals and the sweet gestures they made in order to selflessly help one another.
The
, oh so intriguing, Gabriel Hume, makes a cameo appearance, and has me practically foaming at the mouth to read 'The Duke' coming this fall.
Overall, this is a short, but a delightful and very romantic addition to the series, you won't want to miss.
GET YOUR COPY HERE:
https://www.amazon.com/Pirate-Novella-Devils-Duke-ebook/dp/B01LZFL5IC/ref
https://www.barnesandnoble.com/w/the-pirate-and-i-katharine-ashe/1125780145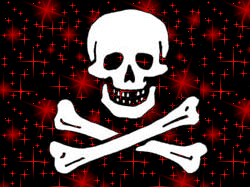 ABOUT THE AUTHOR:
KATHARINE ASHE is the USA Today bestselling and award-winning author of historical romances reviewers call "intensely lush" and "sensationally intelligent," including her acclaimed Devil's Duke Series, and My Lady, My Lord and How to Marry a Highlander, 2015 and 2014 finalists for the romance industry's most prestigious award, the RITA®.
Katharine lives in the wonderfully warm Southeast with her beloved husband, son, dog, and a garden she likes to call romantic rather than unkempt. A professor of European History, she writes fiction because she thinks modern readers deserve grand adventures and breathtaking sensuality too. For more about her books, please visit her at www.KatharineAshe.com
If you would like to receive e-news announcements about Katharine's books and appearances, join Katharine's e-news list. To subscribe, copy and paste this URL into your browser's address window: http://katharineashe.com/contact/#newsletter