MY REVIEW: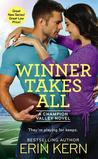 Winner Takes All
by
Erin Kern
My rating:
4 of 5 stars
Winner Takes All by Erin Kern is a 2016 Forever publication. I was provided a copy of this book by the publisher and Netgalley in exchange for an honest review.
This is a cute contemporary sports romance centered around Blake Carpenter, a former NFL golden boy, who left the sport amid injury and scandal, and Annabelle, a physical therapist, determined to keep tight control over life.
After returning to his hometown in Colorado, Blake is given a one shot chance to pull a winning season out of the local high school football team. But, when Annabelle arrives, insisting on helping the team out with physical therapy, the two clash right from the get-go - but maybe that bothersome chemistry between them has something to do with that?
While this story is adorable and sweet, with a sprinkle of humor, especially from Annabelle's mother and the 'Beehive Mafia', the story also addresses the darker side of professional sports and the consequences of dealing with major injuries without proper rehab and therapy, and being at the mercy of coaches and trainers who do not have the athlete's best interest at heart, which can lead to a lifetime of severe pain, among other things.
Annabelle's personal story is emotional, as well, because she is struggling with her responsibilities to her mom and the resentment she feels for her free spirited sister, but maybe she's had the power to change her life all along, she's just needed to realize it.
I got caught up in this story and wound up finishing it in just a few hours. So, I would have to say I really enjoyed it. Blake and Annabelle not only found a way to make their relationship with each other work, but they helped one other face their individual stumbling blocks and issues, in order to live happier, more fulfilled lives.
Overall, this is a well- rounded romance, that leaves Blake and Annabelle is a good place, one filled with hope and promise.
a Rafflecopter giveaway
ABOUT THE AUTHOR: