ABOUT THE BOOK:
"Master storytelling transports you to medieval Scotland!"
Paula Quinn, NY Times Bestselling Author


When your destiny lies far from where you began …

Scotland 1072

The Norman Conqueror robbed Steinar of Talisand of his noble father and his lands, forcing him to flee to Scotland while still recovering from a devastating wound. At the royal court, Steinar becomes scribe to the unlettered King of Scots while secretly regaining his skill with a sword.

The first time Steinar glimpses the flame-haired maiden, Catrìona of the Vale of Leven, he is drawn to her spirited beauty. She does not fit among the ladies who serve the devout queen. Not pious, not obedient and not given to stitchery, the firebrand flies a falcon! Though Catrìona captures Steinar's attention, he is only a scribe and she is promised to another.

Catrìona has come to Malcolm's court wounded in spirit from the vicious attack on her home by Northmen who slayed her parents and her people. But that is not all she will suffer. The man she thought to wed will soon betray her.
MY REVIEW:
When all is lost, what hope is there for love? Can a broken heart be mended? Can a damaged soul be healed?
Rebel Warrior
by
Regan Walker
My rating:
5 of 5 stars
Rebel Warrior by Regan Walker is a 2016 publication. I was provided a copy of this book in exchange for an honest review.
Anytime I sit down to read a book by Regan Walker I know I'm in for a real treat. I love Medieval romances, but I enjoy a lot more when the author has worked to add significant authenticity to the story.
I love being swept away to a faraway time and place and losing myself in the traditions, customs, language, and dress of the period.
In this third installment in the Medieval Warriors series, the focus is on the long journey to true love for Steiner of Talisand and Catriona of the Vale of Leven.
As the story opens a brutal battle leaves Catriona an orphan and plagued by nightmares. Her betrothed has given her time to grieve, but after a year of mourning, Catriona joins Malcom's court as one of the Queen's ladies, hoping to reunite with her fiancé and move forward with her life.
However, upon arrival at court, she is dismayed to find her fiancé is once more attempting to postpone the wedding.
Meanwhile, Catriona has caught the attention of Steiner, a scribe recovering from a serve injury. The pair forms a friendship while working on a mission assigned to them by the queen. When events unfold exposing a heartbreaking betrayal, Catriona is devastated. Can Steiner's love for her win her heart and heal her soul?
I love the intrigue at court and this story has plenty of machinations, on top of hard fought battles and a few
star
crossed relationships that must be worked out before everyone can settle into the life they should have.
The author did a fabulous job of creating tension and suspense, causing me worry constantly about Catriona and Steiner as it would seem fate is bent on keeping them apart. They will overcome many obstacles, face many challenges, but their love is one that will not back down in the face of adversity.
The vividly painted characters came alive and kept me riveted to the story, and fully engaged in the plot. I loved Catriona's spirit, her refusal to conform, as she blazed trails in her own way, while staying true and obedient and loyal to her queen.
Steiner is a true hero, a man with brains, talent, and great will power, but also a gentleman with a tender heart who loves his fiery lady and will fight for her love, her safety, and the honor of holding her heart.
The supporting cast is amazing, with villains and schemers, righteous ladies, and gallant men, and even a loyal dog to top it all off. The pacing is near perfect with all the threads coming together perfectly, giving us a rousing, inspiring, and sweet conclusion.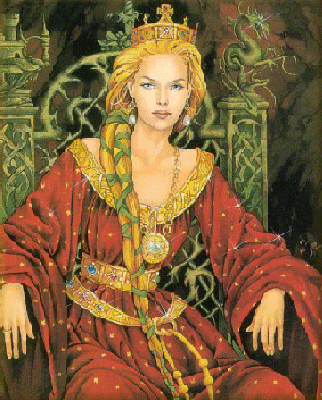 There is just something special about the medieval period that feels so much more romantic, even if it's a little brutal and grittier, depicting harsh times, the love stories are all the more special because of the trials faced, the jostling for power, position and wealth that can interfere, causing unbearable suspense and high drama, but creating sweeping, epic love stories in which no other era of time can compete.
While Regan Walker can write quite prolifically in other historical periods, I must say this has got to be her forte, hands down. She does incredible in depth research, which capture this era of time perfectly, giving me the true sensation of traveling back in time.
This is another outstanding addition to this series and I am very excited to read more about these characters and future generations.

GET YOUR COPY HERE:
http://www.amazon.com/Rebel-Warrior-Medieval-Warriors-3/dp/099684953X
http://www.barnesandnoble.com/w/rebel-warrior-regan-walker/1123818829

ABOUT THE AUTHOR: