ABOUT THE BOOK:
We'll probably never know why our furry friends insist upon squeezing themselves into weird and awkward places, but that doesn't mean we can't appreciate the ensuing cuteness!

With over one hundred photos of cats caught in the act, If It Fits, I Sits captures the quirky, adorable, and no-nonsense spirit of felines everywhere.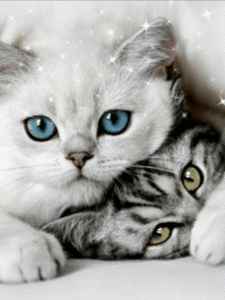 MY REVIEW:
If It Fits, I Sits: Cats in Awkward Places
by
Various
My rating:
4 of 5 stars
If It Fits, I Sits - Cats in Awkward Places is a Gallery Books publication. I was provided a copy of this book by the publisher as a member of the official street team of XOXO After Dark.
Everyone who knows me, knows I love cats. I have three cats in my family so I was delighted to receive this book for review.
This is a small square picture book crammed full of precocious and adorable felines curling up or hiding in the most unusual spaces, such as handbags, tiny boxes, the clothes dryer, the dishwasher, baskets and more.
These are brilliant color photos on glossy paper capturing cats in spontaneous positions, being typical cats.
MY CAT- 'Miss Kitty- IN AN SMALL SPACE:
I think cats love curling up in tight places, no matter how strange or small, because they feel secure or safe there. But, for whatever reason, when we catch them curled up in the bathroom sink, or tucked inside one of our boots, it's just too cute!
This book would be fun for any cat or animal lover and would make great gift for anyone, including children.
This book makes a nice addition for my bookshelf, along with pictures of my pets, and other animal related picture books.
GET YOUR COPY TODAY:
http://www.amazon.com/If-Fits-Sits-Awkward-Places/dp/
http://www.barnesandnoble.com/w/if-it-fits-i-sits-various/