From the hellhole of a Taliban prison to sweet freedom, five brave military heroes have made it home—and they're ready to take on the civilian missions no one else can. Individually they're intimidating. Together they're invincible. They're the men of ARES Security.

Rafe Vargas is only in Newton, Iowa, to clear out his late grandfather's small house. As the covert ops specialist for ARES Security, he's eager to get back to his new life in Texas. But when he crosses paths with Annie White, a haunted beauty with skeletons in her closet, he can't just walk away—not when she's clearly in danger…

There's a mysterious serial killer on the loose with a link to Annie's dark past. And the closer he gets, the deeper Rafe's instinct to protect kicks in. But even with his considerable skill, Annie's courage, and his ARES buddies behind him, the slaying won't stop. Now it's only a matter of time before Annie's next—unless they can unravel a history of deadly lies that won't be buried.
MY REVIEW: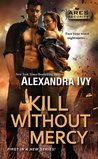 Kill Without Mercy
by
Alexandra Ivy
My rating:
5 of 5 stars
Kill Without Mercy by Alexandra Ivy is a 2015 Kensington publication. I as provided a copy of this book by the publisher and Netgalley in exchange for an honest review.
Count me in. This is my kind of romantic suspense. Terrifying, pulse pounding suspense, with red hot romance and a hero that will have you eating out of the palm of your hand.
Alexandra Ivy is mostly known for her kick butt urban fantasy series. So, I was more than a little curious when I saw she was beginning a new romantic suspense series.
Many of you know that romantic suspense is my favorite genre, but these days I'm finding fewer and fewer series to sink my teeth into and have begun to rely on discovering older titles with more traditional outlines.
So, I have to say I am doing the happy dance over this one. The author has combined the tough ex-military team with the more traditional romantic suspense themes I enjoy most, making this book a must read for romantic suspense fans of all flavors.
Annie returns to her hometown in Newton, Iowa, after the disturbing visions that have plagued her since childhood begin to increase, leading her to believe she must finally face her worst nightmares.
Annie was the lone survivor of the "Newton Slayer" a serial killer who also happened to be her father. But something about the case is nagging at her, so for her own peace of mind, she needs to make an attempt at finding closure.
Rafe has left Texas and his newly formed security firm to put his grandfather's affairs in order, a task he finds particularly distasteful. But, his chance meeting with Annie sends his protective sensors into overdrive and before long the couple are working together, seeking answers to the old case involving Annie's father and a new crop of missing or murdered women.
Are these killings related to the 'Newton Slayer'? Is it a copycat killer?
Either way, two things have become crystal clear: One- Annie is being watched and could be in danger and Two: Rafe has fallen head over heels for her.
This is a dark story with a super creepy serial killer, some morally bankrupt characters, lots of volatile secrets, and an action packed race against time that had me holding on for dear life.
There were a few times when the story lagged, just a little, mainly due to the necessity of introducing the main characters, which sets us up for future installments. However, any down time was short lived, and the pace stayed balanced, building the suspense little by little, and ending with a spectacular showdown.
Ladies, if you don't find Rafe hotter than fire and if he doesn't have your temperature rising, then you better check your pulse! Whew! This guy has 'book boyfriend' written all over him. He definitely comes down on the Alpha side of the fence, but, he's also super sweet, very loyal, and will put his life on the line for the woman he loves.
Annie, was not one of those women that comes with a sarcastic tongue, a tough as nails attitude, or the ability to hold her own against a guy ten times her size. Her terrifying visions aside, she's an everyday, normal person, with a plain vanilla life, until she gathers the courage to face her past. She's vulnerable and a little fragile, but she rises to the occasion, unlocking a fierce fortitude, and does what she has to survive and bring down a twisted, sick serial killer.
Rafe and Annie make a great team, and a great couple.
I really enjoyed this first book in the Ares Security series and so I am SO stoked for the next installment!
PRE-ORDER YOUR COPY HERE:
http://www.amazon.com/Kill-Without-Mercy-Ares-Security/dp/1420137557/ref
=
ABOUT THE AUTHOR:
I'm not exactly sure when I fell in love with books. Probably on my mother's knee listening to her read Dr. Seuss to me. I do remember that I was barely old enough to cross the street by myself when I discovered the delights of the local library. Could anything be more wonderful than spending summer days surrounded by stacks of Nancy Drew mysteries? Over the years I fell in love with Victoria Holt, Jane Austen, Agatha Christie, and J.R.R. Tolkien just to name a few. I read poetry, essays, biographies, and plays. In fact, I read anything I could get my hands on.
Years later (no, I'm not admitting how many) I'm still an avid reader, and my tastes are still as varied as they were in my youth, which I suppose helps to explain why I enjoy writing regency historicals under the name of Deborah Raleigh, as well as my contemporary paranormals as Alexandra Ivy. For now that is enough to keep me busy, but who knows what the future might hold!
I do have a few other loves in my life besides reading and writing, the most important being my unbelievably patient husband, David, and my two sons, Chance and Alexander. Without their constant support and belief in me, I never could have been able to follow my dreams. They are truly my heroes.