Lose your heart to your new bad boy book boyfriend. Wes Carter - sexy, edgy, behind bars, with emotional scars as permanent as the ink on his skin, just waiting to be healed by love...

Fans of Samantha Young, Jodi Ellen Malpas, Jamie McGuire, Katy Evans and Prison Break will find this powerful love story utterly addictive and unforgettable.

Their love is forbidden. But won't be denied... Can true love heal the deepest scars?

For Kat Lane, teaching inmates at a New York prison is her way of upholding the legacy of her beloved father, murdered fifteen years ago. But when new student Wes Carter walks into her classroom, she's shaken by the strength of her attraction to him. Carter is as handsome as he is dangerous, as mysterious as he is quick-witted - and he ensures people keep their distance. Yet vibrant Kat bypasses his defences and challenges him to reveal the real man behind the intimidating reputation. As their emotional barriers crumble, their inescapable but forbidden feelings cannot be ignored. But will Kat's discovery of Carter's role on the night her father died force them apart...or bind their hearts for ever?

A Pound of Flesh is a tale of loyalty, redemption and all-consuming love against the odds, introducing an irresistible bad boy hero..
MY REVIEW: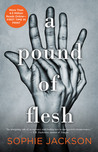 A Pound of Flesh
by
Sophie Jackson
My rating:
4 of 5 stars
A Pound of Flesh by Sophie Jackson is a 2015 Gallery Books publication. I was provided a copy of this book as an XOXpert, the official street team of XOXO After Dark.
"The pound of flesh which I demand of him is dearly bought; 'tis mine and I will have it." - The Merchant of Venice, Act 4, Scene 1
Carter is in prison on a drug charge, trying to get early parole. His lawyer suggested he take some educational courses because it would help make an impression. With a major chip on his shoulder, and a ticked off at the entire world attitude, , Carter arrives for class ready to challenge the instructor. But, he gets a huge surprise when it turns out the teacher is no pushover, and she shares a poignant piece of history with him.
Katherine, aka, Peaches is a teacher trying to follow through on her deceased father's last wishes, by giving a part of her talent back to those who need it most. So, the prison education system is where she has decided to use that talent. The last thing Peaches ever imagined, was feeling an intense connection to one her students. But, the pull between them is so strong, it's impossible to deny it, and despite the danger and possible career suicide, Peaches refuses to turn her back on Carter.
But, there are people close to Peaches and Carter who are not so happy about this situation and will do whatever they can to tear them apart.
I admit I missed out on all the online buzz about this book and this is my first encounter with this author. But, when I saw how many rave reviews the book had, I was very curious, but had the feeling this book might be a little on the New Adult side of things, and I'm not so big on NA for the most part, so I approached the book with an air of caution.
I'm very pleased to say that I am impressed with the book and enjoyed it very much. There were some rather implausible scenarios, and the oddity of these ships passing in the night connecting again after all those years was a bit of a stretch, but the story is very romantic, inspiring and has many elements I love in my romance novels.
I love it when we have flawed characters who find love and with it, hope and healing. Carter and Peaches both have demons they are fighting, and with the strong support and understanding they have for one another, each person rises to meet life's challenges head on and become better people in the process. They stuck to their guns, did what was best and right for each other, and reaped the reward, by allowing love to work it's powerful magic, and will continue to pay it forward.
This is a good book and I am very happy I gave it a try.
GET YOUR COPY HERE:
http://www.amazon.com/Pound-Flesh-Sophie-Jackson-ebook/dp/B00P42WU5W/ref
http://www.barnesandnoble.com/w/a-pound-of-flesh-sophie-jackson/1120678780
ABOUT THE AUTHOR:
Sophie is an English teacher from Chorley in North West England. As a child she read and wrote furiously, and continued to scratch that creative itch as an adult when, in 2008, she began contributing to the web's leading fan fiction site after reading the Twilight series. Sophie wrote and posted a number of stories, chapter by chapter, and built up an impressive following. Now, after 4.5 million reads online,
A Pound of Flesh
is available in print for the first time.
CONNECT WITH SOPHIE:
https://www.facebook.com/SophieJacksonRomance