Enter to Win a
$25.00 B&N eGift Card
SHADOW FALL
Laura Griffin
Releasing Sept 22nd, 2015
In the ninth romantic suspense novel in the New York Times bestselling Tracers series, author Laura Griffin brings back her elite cadre of forensic experts as they hunt down the most brutal serial killer yet.
Special Agent Tara Rushing arrives at a grisly murder scene and quickly discovers she's got a serial killer on her hands. The killer is meticulous, making sure to wipe up even the smallest traces of evidence…but the Delphi Center experts are on the case.
The local sheriff has a suspect all picked out—ex-Marine and current security expert Liam Wolfe. Despite all her digging, Tara knows very little about Liam when she shows up at his sprawling Texas compound, which serves as headquarters for Wolfe Security, and she's surprised by her intense physical reaction to him.
As she and Liam grow closer, Tara finds herself depending on his skills and expertise to help her track a killer. But when another body turns up, Tara must decide if she can trust the man who's quickly stealing her heart.
The ninth novel in the Tracers series that combines gripping plot twists with spine-tingling romance, Shadow Fall once again proves that "Laura Griffin gets better with each book" (The Romance Reviews).
BUY NOW

Tara looked out the window again and realized her pulse was still thrumming. He unnerved her. It wasn't just his size, it was his attitude. Maybe she was self-conscious because he'd caught her off guard. She was definitely embarrassed that she'd pulled her weapon on him.

She adjusted the vent and got a waft of hot air. His attitude bothered her, but she liked his truck. It smelled like leather and earth and felt deliciously warm. She forced herself to ignore the flutter of nerves generated by being alone in the dark with him. The nerves weren't from fear but something else. And she wondered which was worse, being afraid of a man she was investigating or being attracted to him?

"You shouldn't come out here alone."

She looked at him. "Why not?"

"We've got more than a few meth heads around here. You don't want to walk up on something, not without backup."

She watched his face in the dimness, uneasy with the protective tone of his voice.

"We confirmed the ID today," she said.

"I know."

That ticked her off.

"Won't be long till the media has it," he added.

"Where are you getting your information?"

He didn't answer.

"And the other day," she said, "how'd you know we were here, me and M.J.? Are you having us tailed?"

Even if he was, he'd probably never admit it. But she at least needed to ask and get his reaction. Shadowing investigators could definitely be considered suspicious behavior.

Although she had to be honest with herself. She didn't consider him a real suspect. Despite his links to the victim, she simply didn't feel it.

"I'm guessing you filmed us approaching your property and ran my plate," she said.

The corner of his mouth lifted. "Nothing that cloak-and- dagger." He glanced at her. "I'm friends with Crystal."

"Who's Crystal?"

"She waited on you at the Waffle Stop. Bright red hair, eyebrow ring."

She turned to face the window. "Small-town grapevine. And here I've been all impressed with your spying abilities."

"You should be." He pulled up to her Explorer and parked. "We're the best there is."

She looked at him in the darkness, so confident it bordered on arrogance. And the crazy thing was she believed him. She bought into it completely—he was that good.

His eyes locked on hers, and the air between them felt charged with electricity. His gaze dropped to her mouth, and her heart skittered. Was he going to kiss her? He eased closer, watching her, making her heart pound.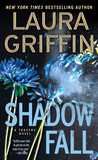 Shadow Fall
by
Laura Griffin
Dark, Twisty, and Engrossing!
Shadow Fall by Laura Griffin is a 2015 Pocket Books Publication. I was provided a copy of this book in exchange for an honest review.
Laura Griffin is one of my favorite romantic suspense authors and ' The Tracers' series is one I actually make a concerted effort to stay up to date with. While this series is always creative, action packed, and suspenseful, the romance and sensuality is usually given a prominent place in the story. In this case, the romance is still an important part of the story, but the mystery/suspense elements take center stage.
When a promising political candidate is found murdered the security firm, she had hired to protect her, comes under fire. Enter Special Agent Tara Rushing, who, along with the Delphi Center, is on the case. She is immediately suspicious of the security expert, and owner of Wolfe Securities, Liam Wolfe.
When it becomes obvious that other murders have occurred close by Liam's compound, Liam firmly stands behind his company and his men, refusing to admit one of them could be responsible. Tara on the other hand views Liam's stance as obstruction of justice and interference with an ongoing investigation. While there is an obvious chemistry between the two, Tara must proceed with caution because Liam may not be a person she can trust with the details of the case...or with her heart.
The characters in this story are very interesting and a little complex, making them distinct and a perfect compliment to one another. Tara is at a fragile point in her career, is suffering from nightmares, and wondering if she is becoming too cynical, while Liam is an enigmatic character, tight lipped, dark, and sometimes a little over confident and aggravating. Both characters are strong, but each has a soft or vulnerable side which helps the reader relate to them and feel empathy toward them.
There secondary characters were also well defined and added a little extra sparkle of romance and tension to the story.
The mystery is also one of the best I've read in a while, with forensics playing a big role, helping to create a smart, well plotted story. The taut serial killer premise and slow, creepy, build up of suspense, complex twist and turns make this an engrossing book, which was impossible to put down.
This is a story that reminded me of the romantic suspense novels I cut my teeth on and made me such a fan on this genre to begin with.
This author is one of the best in this genre, and just keeps getting better. I thought this installment was just a wee bit darker than some and I liked it more because of it. What can I say.. I'm dark and twisty. I hope to see more like this one in the future.
This is another solid installment in this series and highly recommend it!
a Rafflecopter giveaway
New York Times and USA Today bestselling author LAURA GRIFFIN started her career in journalism before venturing into the world of romantic suspense. She is a two-time RITA Award winner (for the books Scorched and Whisper of Warning) as well as the recipient of the Daphne du Maurier Award (for Untraceable). Laura currently lives in Austin, where she is working on her next book.
Want to Find out More about the TRACERS series?