It's the turbulent 1970s, a time of social upheaval. University-educated ex-surfer Casey Kellog is the youngest homicide detective on the force. He's teamed up with Al Krug, an older, tougher, street-wise cop resistant to change. Their latest case involves a vicious hit-and-run death: a driver in a Mercedes chases a motorcyclist, hits him, and then backs up over him again, making certain that he's road kill. The investigation takes a bizarre turn when the victim is undressed in the morgue and the two cops discover that his corpse is plastic-wrapped in twenty-dollar bills…
MY REVIEW: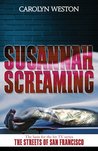 Susannah Screaming
by
Carolyn Weston
My rating:
4 of 5 stars
Susannah Screaming by Carolyn Weston is a 2015 Brash Books Publication. I was provided a copy of this book by the publisher and Netgalley in exchange for an honest review.
What a wonderful caper style mystery set in San Francisco in the 1970's featuring Al Krug and Casey Kellogg.
When Rees decides to do his laundry at a rather unusual time of the morning he witnesses a hit and run car crash. Badly shaken, he calls the police, who discovers there is another witness, a young woman named Susannah. The veteran officer, Krug takes an immediate dislike to Rees, pegs him as con-man and therefore somehow involved, while Casey, relatively new to the force, tries to take a less cynical view of things.
When you read this book, you will need to stay focused on the plot, because this is not just a run of the mill police procedural, but is instead a case dealing with a very well thought out counterfeit ring, so there are lots of sudden shifts and changes, and twist and turns, which gives the story a caper style atmosphere.
I loved the era the story was written in, and the story is top notch. Despite the out of date lingo, ( the Fuzz! LOL! ) the story itself stands the test of time wonderfully. I was challenged, engaged, engrossed, and thoroughly entertained. Krug is crusty, cynical and can read people quite well, but his jaded attitude can hinder him at times, while Casey has a more open mind and is able to look at the situation with a more unbiased eye, but he is also misses some ques, his partner picks up due to his experience. This is what makes them a great team and I loved the banter between them.
For those of you too young to remember, this book series was the basis for the popular cop show "The Streets of San Francisco" which starred Karl Malden and Michael Douglas and aired from 1972-1977.
Overall this is a solid crime drama and I enjoyed spending my Saturday afternoon with Krug and Kellogg. 4 stars
Grab your copy here:
ABOUT THE AUTHOR:
Carolyn Weston grew up in Hollywood during the Depression. She played hooky from school in movie theaters and libraries, honing the craft that would make her books so remarkable. During World War II, she worked in an aircraft plant and then did odd jobs around the country before writing Poor Poor Ophelia, the first Al Krug / Casey Kellog police procedural... which became the hit TV series The Streets of San Francisco. Two more books in the series, every bit as good as Ed McBain's 87th Precinct and just as memorable, followed and all three are proudly being published by Brash Books.
website:
http://www.mysterythrillerbooks.com/author/carolyn-weston/