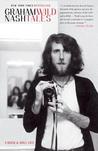 Wild Tales: A Rock & Roll Life
by
Graham Nash
My rating:
3 of 5 stars
Wild Tales by Graham Nash- A Rock & Roll Life is a Crown publishing release. I was provided a copy of this book by the publisher an Edelweiss in exchange for an honest review.
Graham Nash has had one those rare musical successes which has gone on for decades. The Hollies and Crosby, Stills, Nash ( and sometimes Young) are the groups we know him from.
I grew up listening to CSN and of course I heard some hits by The Hollies too. Still, other than David Crosby's epic battles with drugs, I really didn't know too much about CSN or Graham Nash. So, curious I signed on to read this one.
Rock autobiographies can go several ways. They can read like dry history with a list of albums and songs with a few tidbits of gossip, all of which a quick internet search could supply, or it's a shameless self promotion and a lot whining and finger pointing and of course all the issues with drugs which after awhile is just flat boring. This one managed to avoid some of those issues. I was thankful there was no list of albums/songs and that every single cord or recording session and snit fits wasn't examined to death. In this one, Graham starts off strong going into his formative years, his parents problems and how he got started in music.
The period when Graham was with the Hollies is fun to read about. Those days were so exciting in the history of music. The Hollies were a hit machine with catchy pop laden tunes and they rarely missed the mark. But, Graham outgrew The Hollies and longed for something more serious or substantial.
The years he was with CSN, were where he spent the bulk of his career. While he had much success with The Hollies, it was nothing like the incredible times Graham spent with CSN. He went through Woodstock, sold out arenas, hit after hit after hit. When I read back over his career with this band I am amazed at the amount work this band did and despite everything managed to stay popular.
I thought Graham had a unique way of telling his story, which was funny, blunt, and one could literally see how he changed over time. But, once the book hit those days of super stardom it became like so many other rock memoirs. That feeling of "been there, done that" came up and Graham began to sound like so many other spoiled musicians who have lived in a bubble too long. Of course, you would be naïve to think this book was published with absolutely no intent of self promotion. So, yes, there was some of that too.
The first half of the book was told with a fresh, strong voice as memories of his childhood, and first taste of success are told with what felt like the same awe he had while living through those days. But, as we approached the second half, it was as if he had grown weary of telling this part of his life story and reliving it now was exhausting. So, the book lost a lot of it's previous momentum and it became really tedious.
I did think Graham was tactful most of the time, but also pretty honest, calling like he saw it or experienced it. His relationships with women, his music, friends, band mates, drug issues, and politics, as well as awards, charities, benefits are all laid out there. Triumphs, tragedies, ups, downs, good and bad, Graham has certainly lived a full life, has seen many changes and came through it all still alive, still productive, still performing and living life to it's fullest.
Overall, as rock memoirs go, this one was pretty much standard. Not great, but not all that bad either. This one gets a 3.